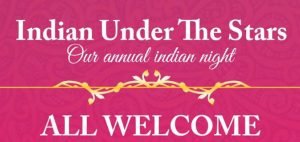 Once a year we get together for an evening of fun, music, food and a touch of Indian charm.
And each year, on this evening we raise some money and it goes to tribal Widows in Gujarat, India.
To send them, our sisters in another land love & hope from us at Christmas.
This year we will be dining under the stars – having a beautiful 3 course meal with some of the best of Indian cuisine and our chef will be "live' cooking our Rumali Rotis (the softest and thinnest of India's flat breads)
As always on this night there will be a focus on the women who have become widows in a tribal area of India. Because of this annual night, over the years we have Christmas- gifted thousands of widows – sent them our love, not just in words but in actions.
Date ~ Tuesday 17th October @ 6.30 pm
Place ~ KP Center Carpark 373 Chatswood Rd Shailer Park.
Three Course Dinner ~ Adults – $20 pp (13 years upwards) Children – $10pp (5 – 12yrs old) Family (2 Adults + Children) – $50
For more information please check out our Facebook page 'Our Annual Indian Night'
Tickets must be booked by Sunday 15th Oct
Most of the food is gluten free.
This Indian meal is served mild.